Legal information
KG Labs Public Foundation granted Certificate of registration issued by Bishkek city Justice Department under Ministry of Justice on October 10, 2016. Date of initial registration is June 5, 2015.
Tax registration number: 00506201510196, registered in Bishkek city.
Legal address: KG Labs Public Foundation, 153V Aaly Usenbayev street, Bishkek, Kyrgyz Republic.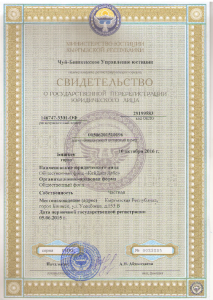 Bank Account information
You can find information on bank requisites via link: list-of-banks-correspondents-optima-bank
KG Labs Public Foundation bank account number: 1090820060080189
Organizational diagnostics
KG Labs passed organizational diagnostics test conducted by East-West Management Institute on October 19, 2016.