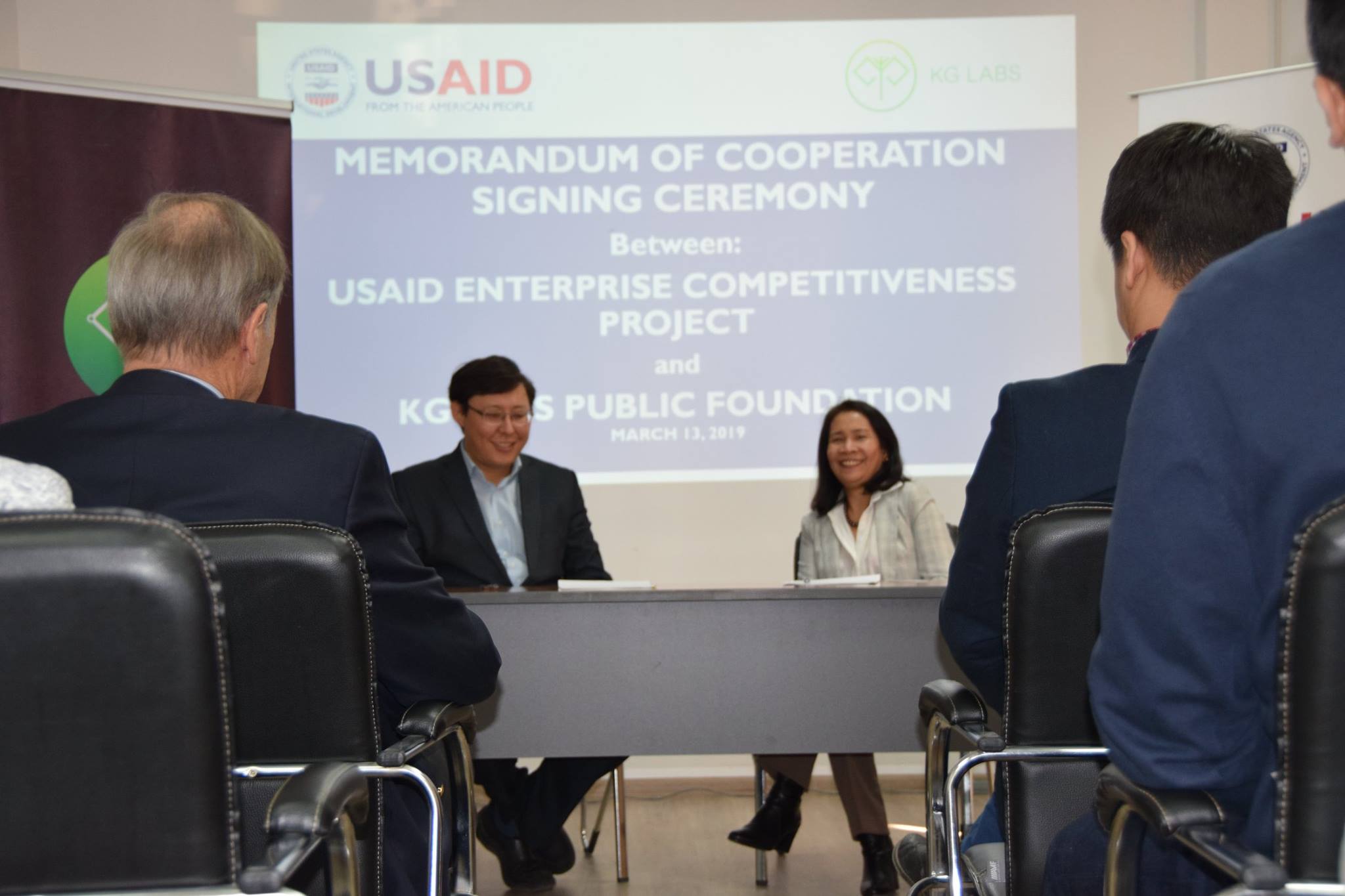 Signing Memorandum of Cooperation with USAID ECP Program
2019-03-14
---
KG Labs had signed Memorandum of Cooperation with the USAID Enterprise Competitiveness Project in the Kyrgyz Republic with aim to boost IT industry development helping tech startups to scale up.
Background/Justification of the MOC
ACDI/VOCA is implementing the USAID Enterprise Competitiveness Project in the Kyrgyz Republic. ACDI/VOCA will accelerate inclusive sales growth and increase job creation in Kyrgyzstani small and medium enterprises (SMEs) in support of USAID/Kyrgyz Republic's (USAID/KR's) economic growth Development Objective 3 (DO 3) titled, "Accelerated growth of a diversified and equitable economy." The project will actualize inclusive sales, employment, and private capital outcomes from growth or export-oriented SMEs and financial sector partners. The project's theory of change is that inclusive market-led sales growth attained in partnership with the private sector will promote and accelerate inclusive and sustainable economic growth. The primary outcomes are: (1) increased sales and (2) new jobs created.
The Component 2 of USAID Enterprise Competitiveness Project is designed to provide practical approaches to addressing human and social capital challenges at the firm level. Component 2 will implement a Business Acceleration Program to help Kyrgyztani SMEs, focused on women and youth-led SMEs, build a growth development strategy and identify the critical business milestones to expand their businesses.
Established in 2015, KG Labs Public Foundation, is developing an ecosystem that encourages innovation and entrepreneurship, and supports the growth of tech-based businesses, from technical schools to create a talented workforce, to angel funding for startups, to a set of public policies that enable growth, and provide protections for investors, workers and consumers. KG Labs closely works with governmental institutions, international donors and local community to research, analyze and develop smart policies required to boost tech startup ecosystem in Kyrgyz Republic. Points of contact include policy advisory to Ministry level officials, organizing round tables and presentations for mid-level decision makers in government and business industries, and publishing articles in leading local media outlets.
Objective/Purpose of MOC
ACDI/VOCA through the USAID Enterprise Competitiveness Project and KG Labs agree to cooperate towards achieving mutual objectives through this Memorandum of Cooperation. This Cooperation aims to promote access to business acceleration program for women and youth led start-ups and early stage ventures through USAID Enterprise Competitiveness Project's Business Acceleration and Investment Readiness framework and rigorous training with aim to chart a pathway for growth of SMEs and connect them to available sources of domestic and international capital and partnerships.
Specific Objectives:
To recruit 20 growth-oriented women and youth-led SMEs and/or enterprises with 80% of workers women and youth into the Business Acceleration Program.
To transfer knowledge and expertise from USAID ECP Business Acceleration Program through training activities under the Business Acceleration Program.
To ultimately institutionalize the implementation of the Business Acceleration Program into business development work of KG Labs Public Foundation while continuing collaboration with USAID ECP.
3. Terms of Reference (Schedule/Deliverables of each Party)
Through USAID Enterprise Competitiveness Project, ACDI/VOCA's responsibilities will include:
Provide access to the USAID ECP Business Acceleration framework, methodology, and know-how for future use by KG Labs;
Provide business acceleration support and training to 20 SMEs recruited by KG Labs;
Provide oversight, technical advice/support and monitoring on a regular basis to address emerging issues;
Provide to KG Labs parameters for selection of participants and jointly with KG Labs carry out selection of the 20 participants for inclusion in the business acceleration program
Provide KG Labs public foundation with all required branding and marking guidelines.
KG LABS's responsibilities will include:
Recruit 20 potential Acceleration participants to the USAID ECP for inclusion into the Business Acceleration Program;
Nominate 1 or more staff representatives of KG Labs Public Foundation to participate at acceleration training activities and serve on the USAID ECP Business Acceleration Program Advisory Board;
Recruit and invite 10 mentors (investors, financial institutions, ecosystem partners, successful entrepreneurs) to participate in workshop 1 and workshop 3;
Provide information on the available outcomes and outputs as listed in section 4;
Ensure compliance with branding & marking, and environmental regulations and policies of USAID and the laws of the Government of Kyrgyzstan.