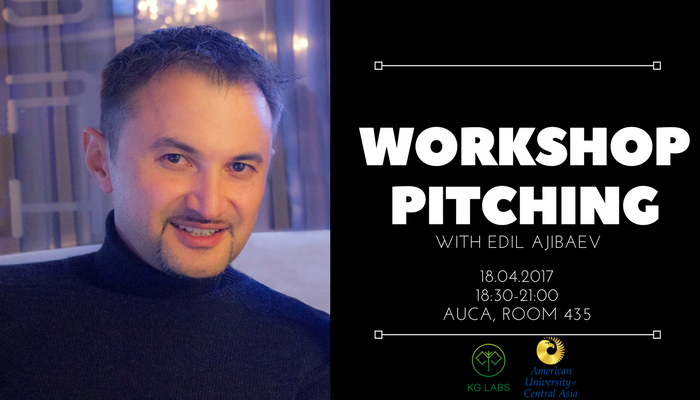 Workshop Pitching with Edil Ajibaev
2017-04-07
---
Pitching is one of the most necessary and at the same time one of the most underrated skills for a successful business presentation. KG Labs is pleased to invite you to the Workshop Pitching with Edil Ajibaev, which will be held as part of the Travel & Tourism hackaton.
As a result of this workshop, we expect that participants will be able to improve their presentation skills, which they will be able to apply on April 22 at the Pitching Day, at which participants will present their ideas. On Pitching Day will be presented the strongest presentations. As a result of the presentations, the judges will determine the winners who will receive prizes.
The speaker is Edil Azhibaev. He is an example of a successful entrepreneur from Kyrgyzstan. Edil founded his successful start-up PicVPic in Central Asia and continues to manage a company based in Bishkek.
Edil is the winner of the following competitions:
The best pitch award in the Silicone Valley Open Doors conference in Palo Alto;
Winner of seed stars world Kiev;
Winner of Technation Kazakhstan;
Winner of Echelon27 regional central asian finals Kazakhstan, where he presented his online website for comparative shopping and e-commerce. Ajibaev holds a bachelor's degree in economics from the American University of Central Asia (Bard College), an MBA from Indiana University in Bloomington. Before starting his startup, Edil worked for M & A and Strategy Manager at Li & Fung Limited (an office in the UK), a consultant in the Central Asian office of EBRD.
This event will be interesting for software developers: full stack, back-end, front-end, iOS / Android; specialists in marketing, project management; specialists from the sphere of tourism and travel; Designers (web designers, graphic artists), usability specialists.
Time: April 18 at 19:00. Check-in is at 18:30.
Location: American University of Central Asia, classroom 435.
Free admision. You need to register via the link: https: //docs.google.com/forms/d/e/1FAIpQLScfmWvlauVtoAOmEBOCghf9J8fLwO1Cf_Ftt_ysX2125oBZzw/viewform
Contact:
For further information, please contact Bermet Malikova, coordinator of the KG Labs Public Foundation via email: bermet.malikova@gmail.com.
Information about the organizers:
KG Labs Public Foundation, the mission is to promote technological entrepreneurship in the Kyrgyz Republic; the American University of Central Asia is the leading innovation university in Central Asia.