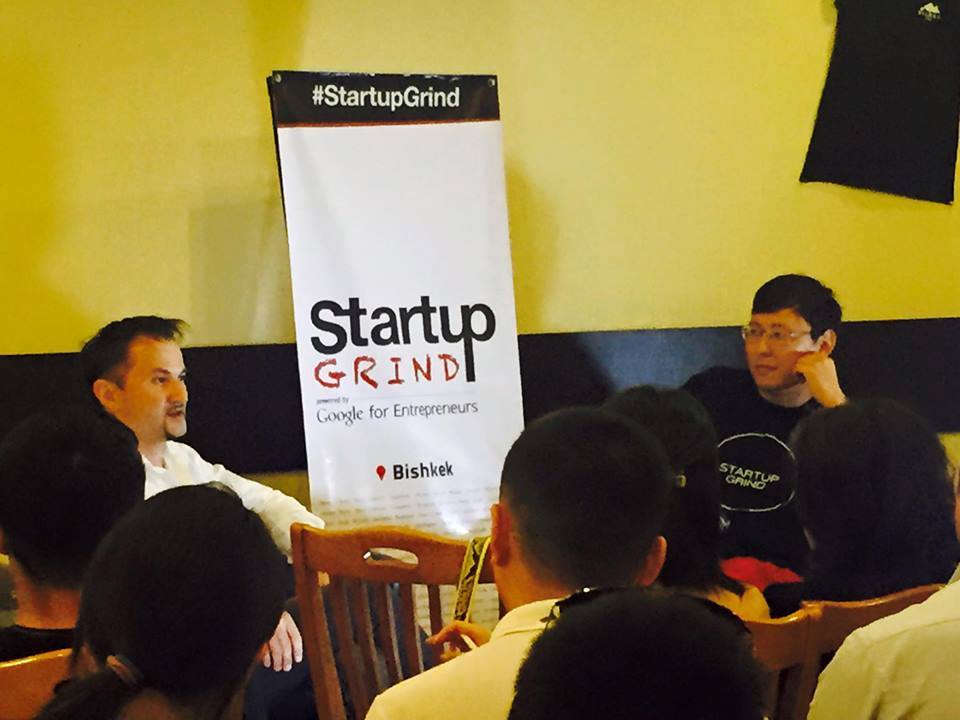 Промежуточный отчет за 2015й год
2016-01-15
---
Since its founding, KG Labs has been an active participant in the startup and entrepreneurial community in the Bishkek area. In just six months the foundation created multiple domestic and international partnerships, was invited into international communities and networks including Startup Grind, Startup Nations, the Global Entrepreneurship Network, and others. KG Labs is currently finalizing partnerships with Estonian-based Garage48 and the Estonian Ministry of Foreign Affairs, as well as the Global Entrepreneurship Week representative in Dushanbe, Tajikistan. These partnerships signal the beginning of a movement toward more regional cooperation among Central Asian and CIS countries and their startup communities.
June 2015 saw Kyrgyzstan's first Future Agro Challenge Competition in partnership with the Bishkek UNDP office. Winner Tilek Toktogaziev will attend Global Entrepreneurship Congress in Medellin, Colombia in March 2016, with UNDP funding, to present his greenhouse innovation that was developed in the Kyrgyz Repubic.
In August 2015 KG Labs Director Emily Youatt became the Startup Grind International Bishkek Chapter Directors, taking on the responsibility of holding monthly "fireside chats" with prominent national and regional entrepreneurs. The fireside chats act as a platform for attendees to listen to a live interview with established entrepreneurs in the community and they also serve as an informal
networking event designed to promote the mixing of networks within Bishkek's entrepreneurial community. The ticketed events allow KG Labs and Startup Grind to raise a small amount of funds that are used to hold future events for the community and to purchase coffee and snacks for attendees. KG Labs looks forward to sending some of its team members to the global event in Redwood City, California in February 2016 where the team will have the chance to connect with their global counterparts and network with international entrepreneurs and bring their experiences back to Kyrgyzstan.
In September 2015 KG Labs, Garage48, The Estonian Ministry of Foreign Affairs, and the American University of Central Asia partnered together to put on one of the year's most successful hackathons in Kyrgyzstan. Garage48, an Estonian-based organization, works with CIS communities to organize weekend hackathons in which teams form a working mobile or web-based prototype in 48 hours. With over 110 participants, Kyrgyzstan's inaugural Garage48 event saw Eldar Galiev as the country's first winner. With funding from Garage48 and other sponsors, he won the opportunity to travel to Estonia and Finland to immerse himself in the startup culture of the Baltic and Nordic
countries and to learn about best practices of the countries' well-developed startup communities. Half of the teams that created working prototypes are continuing to function in January 2016.
Two weeks following the Garage48 event in September 2015, KG Labs held "The Pitch" competition, a competition for the most compelling and persuasive business "pitches" or presentations in the country. Asylbek Abdikarimov, with his online hospital and doctor directory,
"Salamat.kg" as this year's winner from Kyrgyzstan. Asylbek won a paid trip to Monterrey, Mexico in December, funded by Startup Nations and INADEM Mexico, to compete with his medical website innovation against over 50 international competitors.
In November 2015 KG Labs and the Central Asian Free Market (CAFMI) Institute held an event called Startup Safary, an interesting take on an organized city-wide networking event with local companies and entrepreneurs. While interesting, the format was new to the Bishkek startup community and may need a few more years to take hold.
In December 2015, KG Labs Director Emily traveled to the Startup Nations Summit in Mexico City and Monterrey, Mexico as Kyrgyzstan's delegate, with funding from INADEM Mexico, to discuss local and national policy challenges and success stories with delegates from over 80 countries around the world, and to connect with the global startup community. Ms. Youatt was the only representative from the Central Asian region, which KG Labs hopes to change by promoting further regional participation in 2016. This trip allowed KG Labs to greatly extend our network within the Eurasian region and beyond, with regional cooperation in the works for 2016.