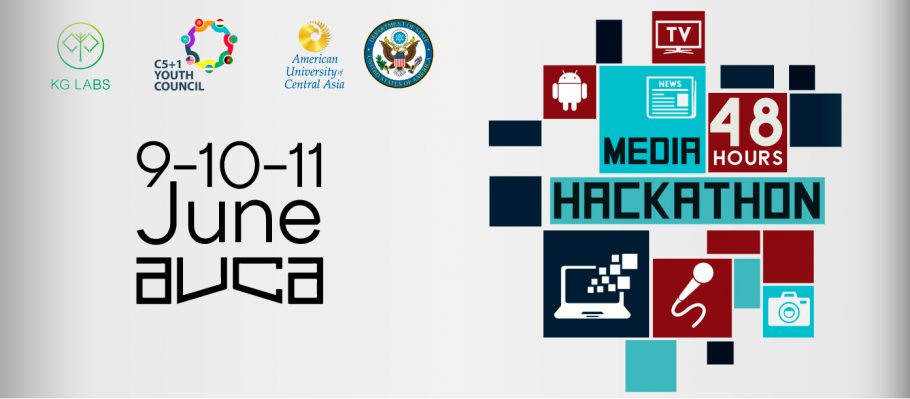 Media Hackathon on 9-10-11 June
2017-05-22
---

Youth Council C5 + 1 in partnership with KG labs Public Foundation are pleased to announce the Media Hackathon!
What is Hackathon?
#Hackathon (from hack (see hacker) and marathon) is a platform where during 48 hours of intensive brainstorming, team building and programming a working prototype of software is created to solve any problem. "Hacking" is a creative approach to solving problems through technologies, where participants in a team of 6-7 people use their knowledge and practical skills to create a unique product. Designers, developers, marketers, visionaries and experts, inspired by a single idea, "crack" existing problems in the style of start-up. Throughout the whole time, together with the teams, professional mentors work to improve (real time) the product and prepare for the presentation of the project (pitching) in front of the panel of judges and potential investors.
Why Media Hackathon?
Have you thought about what news you see in your stream? Can you trust what you are told about by well-known media sources in the country and be confident about the quality of the content?
Today is the time of open data, alternative facts, social networks and a wide choice of platforms for information exchange. Today, in the world, where everyone can become a carrier of information and perform on social networking sites in front of thousands of users, it is very important to understand the impact of information and the user's response. Nevertheless, in many countries freedom of speech is suppressed, citizens are faced with total muffling of their voices and the truthfulness of information arises. Questions about the flow of information and reaction to it from both the media and the public are particularly relevant in areas of social conflict and an active political race.
Who should be on the team?
2 Developers (front end, back end, full stack and others) *
Media specialist \ journalist *
Team manager \ team leader *
Designer (UI / UX and others)
The ideological inspirer
Marketer
Why do not you sleep for 48 hours?
A great opportunity to create a unique product and start your start-up!
New knowledge thanks to training from local and foreign specialists!
Dating with professionals in their field, networking!
Great prizes from our partners and organizers!
If we convince you and you are ready to spend with us 48 hours, then the following information is obligatory for reading.
THE TERMS OF PARTICIPATION:
1. Participation is free, but participants must register the team or on an individual basis through Google's form in advance. As a result of registration, the organizers will send a confirmation letter.
2. Working with teams and teamwork:
– There should be 5-7 people in a team and the team must be balanced, that is, have developers, a media specialist, a designer, an ideological mastermind / manager, in order to present the final product in 48 (!) Hours.
– If you do not have a team, then you will have the opportunity to present your idea to find a team OR you can join the existing team if your field of activity suits it.
-Every assembled team will receive a separate room / place to work throughout Hackaton. The teams will have to discuss the roles in the team, identify the action plan, determine the visuality of the final product and begin work on it. Therefore, the presence of a leader / manager in a team that will follow the time, the concentration of ideas, the progress of the team – is a critical element for quality work.
– Remember, 48 hours is an extreme period!
– Each participant will be added a participant, who will take the role of observer. Participants will be a member of the group "Youth Council C5 + 1".
3. Due to the fact that the target audience of Media Hakaton is more Russian-speaking, the working language of the event will be Russian. Nevertheless, English-speaking participants are allowed at the event, provided that all team members speak English. Simultaneous interpretation will be available for lectures and presentations.
4. Breakfast, lunch (on Saturday and Sunday) and dinner (only on Saturday) are provided by the organizers.
5. Due to the fact that Media Hakaton will be held during the month of Ramadan, the organizers can adapt the logistics to the participants at their request.
6. Unlimited snacks, tea, coffee, and water will be from the beginning to the end of the event.
7. All participants will spend 48 hours in the AUCA building (even at night!)
8. It is assumed that the potential participants of Hakaton attend all the ideological sessions to improve the quality of work on the Hakaton itself, however, this is not a prerequisite.
9. If participants need evaluation and feedback for their ideas, they can send a description of the idea to savelyeva_m@auca.kg before Friday, June 9, 12:00. Participants can prepare a PDF document for a brief pitch (Elevator Pitch), which contains: a brief description of personal experience, (10 seconds), an idea (5 seconds), what the idea is, what problems it affects, who the target audience, (30 seconds), Technical solution and monetization (if the idea is non-commercial, then the potential plan for obtaining funds for product development) (30 seconds), (optimized work plan for 54 hours) and who needs the team (20 seconds). The organizers will send an evaluation / feedback to 16:00 on Friday 9 June.
10. At the time of Hakaton, participants must have a laptop, phone, and the necessary accessories (extension cords / adapters, chargers)
11. Participants will need credit / debit cards for registration of domain names (domain names are free). Those participants who do not have maps will be helped by mentors.
12. Participants are allowed to bring sleeping bags and pillows.
13. Work with mentors: organizers will provide mentors to work with teams. Some are technical specialists, some are business specialists. Participants should be open to dialogue with them and ready to ask the right questions.
14. Participants must wear a badge and a branded T-shirt (they will receive during registration) throughout the event. This measure implies improved networking and provides the necessary environment for the protection of AUCA.
15. The presence of business cards for participants is welcomed.
16. Photo / video shooting is allowed.
17. Positive attitude, energy and openness contributes to increased productivity!
18. Participants are encouraged to invite family members, friends, colleagues and all interested in start-ups and media activities at the lecture of invited speakers on Saturday (June 10) and Sunday (June 11), and on the final pitching on Sunday (June 11) at 17: 00PM. Everything will be held in the AUCA Conference Hall.
Link to registration: https://goo.gl/forms/OC6pYJaZT7f09As12
INFORMATION ABOUT ORGANIZERS, PARTNERS AND SPONSORS:
The project "Youth Council C5 + 1" at the American University in Central Asia and in partnership with the US Embassy in the Kyrgyz Republic.
KG Labs Public Foundation, as well as regional media agencies experts, journalists, designers and developers.
For all questions about the project, please contact +996 (777) 331764