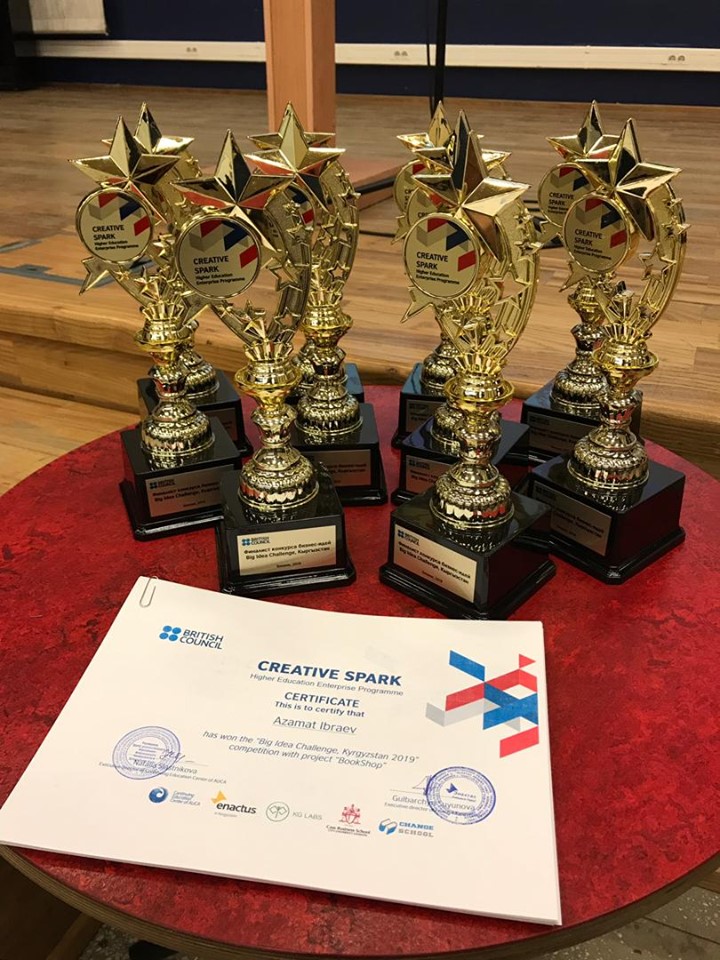 British Council's Creative Spark project award ceremony
2019-06-06
---
On June 4, 2019, the American University in Central Asia hosted an award ceremony for ten teams of finalists of the British Council's Creative Spark project, implemented by the AUCA Center for additional education in partnership with Enactus Kyrgyzstan, KG Labs, Cass Business School, The Change School.
The whole year of work is over: trainings on creative entrepreneurship for University students and young entrepreneurs, covering an audience of more than four hundred people. Behind the search for problems and generation of ideas to solve them; developing an understanding of the structure of the pitch (presentation) and skills for the presentation (pitching) of these ideas for investors. Pre-pitching competitions in ten universities, discussion and selection of the best ideas and winning teams are behind us.
Behind a lot of work of trainers and beneficiaries, discussions, disputes, reflections, the analysis and, of course, emotions.
The culmination of the event was the final of this great work, an event that brought together more than a hundred beneficiaries of the project for the solemn completion of the first phase of the project and honor the ten finalists-teams, each of which were awarded commemorative cups of finalists and certificates-winners of pre-pitch competitions.
Each team from the stage made a one-minute pitch of their idea, and the audience supported them with thunderous applause. The participants shared their impressions about the ideas of the finalists. This inspiring event ended with a sweet treat in the form of a huge cake with the symbolic name Big Idea Challenge.
Now behind the taste of victory on the lips of a huge cake, and chocolate aftertaste.
Ahead of preparing for the National competition, challenges and competition, and of course, designing victory!
———————
Creative Spark is a coordinated and funded by the British Council 5-year program for higher education institutions to develop creative economy and entrepreneurial skills in 7 countries (Kazakhstan, Uzbekistan, Kyrgyzstan, Azerbaijan, Armenia, Georgia and Ukraine). Target group: students, young entrepreneurs and people with a non-standard view on business, future and innovation (from 17-35 years).
#mycreativespark #creativespark #enactuskg #cec_auca #kglabs#creativespark_kg