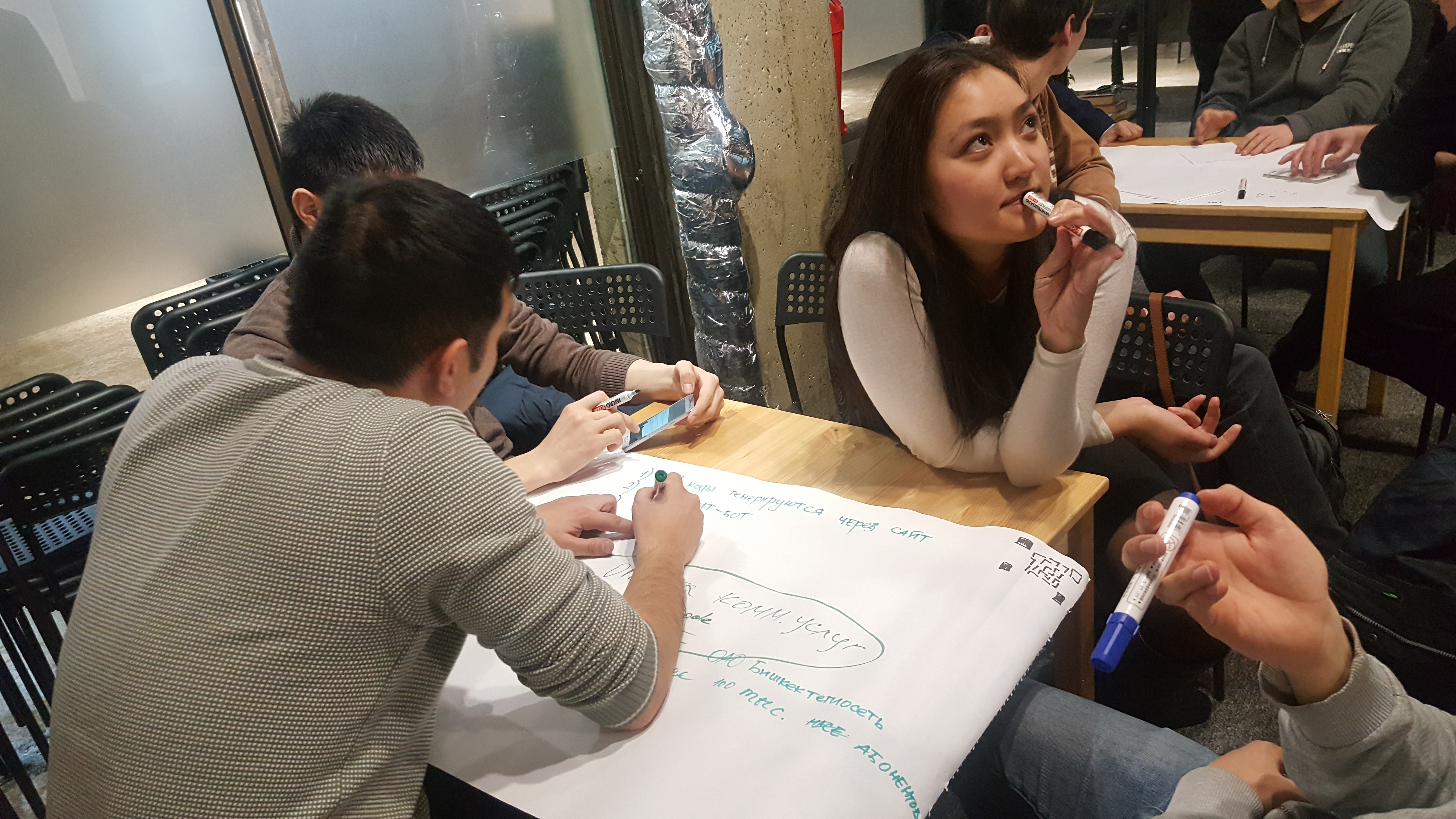 Creative Industries Kyrgyzstan research findings
2018-08-17
---
Culture & Creative Economy in the Kyrgyz Republic
Briefing Paper
Prepared by: Raushanna Sarkeyeva, Rush Data
Key figures and findings:
In 2017 GDP of creative industries could be estimated roughly at 520 958.6 mln soms, accounting for 6,49 % of total GDP;
IT, film and crafts are leading industries of creative economy, since they are primarily profit-oriented. IT has also the strongest professional community;
The state recognizes the significance of cultural projects: recent years were quite productive for state-led initiatives, among them — World Nomad Games, "Kurmanjan Datka" film, new museum in Issuk-Kul region: Center for Nomadic Culture;
Figure 1. GDP by types of economic activity in current prices (mln. som)- total, and GDP of creative industries (aggregated)
There is a serious contrast between the development of culture and creative economy in the capital city, Bishkek, and the regions. Though regional urban centres could become cultural centres too, they still rely on government support;
Major role in visual arts, contemporary art, performing, dance and theatre play independent (both civic and private) initiatives. Culture, arts and creative industries of Kyrgyzstan are important civic catalysts and economic assets that stimulate business activity and retain well educated people from leaving the country.
State Cultural Sector
The state remains the main owner of infrastructure (buildings, facilities) and the main funder of culture and arts. According to the NSC, there 42 cinema theatres, 1061 libraries, 63 museums, 710 clubs and 20 theatres in the Kyrgyz Republic. The biggest concentration of cultural institutions has 2 large cities: Bishkek and Osh. The number of cultural institutions did not change significantly within period 2011 – 2015. According to the Programme of Culture Development, Union of filmmakers and Union of artists were the most productive among state-supported creative unions and associations in 2011 – 2015. While other unions — Writers' Union, Composers' and Union of Theatre Workers — interact with the state only formally, and, basically are inactive. This document also argued that state-funded cultural sector is not competitive enough. However, the most recent statistics of state budget allocations and successful projects in the recent years demonstrate that the government recognizes the significance of culture and art for the country. The 2016 was proclaimed as a Year of History and Culture and the 2017 became a Year of Moral Education and Culture. National budget expenses for culture raised from 2 808 mln som to 5 102 mln som, with about 1 800 mln som provided for the second World Nomad Games. Expenses of the national budget increased by 118% from 2013 to 2017, while expenses of municipal budgets increased only by 33,7 % for the same period.
What are the reasons for such change? First, the biggest projects – World Nomad Games and Museum of Nomadic Culture were initiated by the fourth President of KR, Almazbek Atambayev. These projects along with other state initiatives can be seen as President's attempt to leave a cultural legacy for future generations through preserving and reinventing traditional nomadic culture. Secondly, a strong culture and art sector is an economic asset that attracts tourists, and it goes along with overall vision and strategy for developing tourism. International donors also support the development of cultural tourist destinations and exhibitions. In 2016 USAID funded Business Growth Initiative supported training of 30 representatives from Kyrgyz museums and art management organizations on museum management, and marketing.
Independent cultural sector
The last 5 years have seen the rise of independent, civic initiatives, the emergence of new creative teams and associations. While in 2005 – 2012 culture and art projects were supported mainly by international organizations (most influential were Soros Foundation, US Democratic Commission, Embassy of Germany and Swiss Cooperation Agency, the Christensen Fund), now institutions strive to become self-sustainable.
Contemporary art scene of Kyrgyzstan has been famous for its' independent curators and successful low-budget projects. Among them: exhibitions of contemporary art by ArtEast, Festival, performances of Art group 705, the Art Contest of the April, 1st.
The largest private collection of Kyrgyz artists' works belongs to Tolon Museum of Modern Art. The museum also organizes exhibitions of fine arts and contemporary art (POSTTotal, curated by G. Bokonbaev). Together with PF Bilimkana G. Bokonbaev organizes Artkana — annual residence for artists in Bilimkana schools. Previously, Tolon Museum did not have their own space for exhibitions, this year they gathered artists to study an old Soviet plant ("Linoleum") which they plan to turn into a museum. 2017 also became a year when the first private art centre was opened in Bishkek — Asanbay centre, a multi-use space for exhibitions, events. Asanbay centre benefits from its' curator's close ties other creative groups: Tumar, Studio Museum, ArtEast, Art-group 705, Mesto D theatre and others.
While contemporary art cluster is popular only among certain "bubble", there are events that help to popularize arts and culture, such as Museum Night (more than 15 000 visitors in 2017, started with 4500 visitors in 2015), Tengri Music — open-air festival of classical music (more than 20 thousand spectators in 2017, started with 1500 spectators in 2015). Another successful case of sustainable and popular cultural event is Bishkek Jazz Festival, that was launched in 2006 and successfully promotes not only classical jazz but ethnic jazz, a synthesis of jazz and traditional music of Central Asian states. Even these events are low-budget and are supported mainly by business companies and international donors.
Overview of other creative industries
Advertising. Graphic design, advertising, pr and production of promotional materials after a crisis of 2009 -2010, started to grow steadily from 2012. There are more than 270 enterprises in advertising, marketing and design working in Bishkek. The largest professional event is Red Jolbors Festival, Central Asian analogue of Cannes Lions Award. In 2017 the competition received 344 applications from creative agencies of 4 states of Central Asia. The competition has 6 categories, and 32 nominations in total. Red Jolbors is a very successful case of popular and self-sustainable networking event: more than 450 people visited the festival in 2017, tickets sales covered only 24% of the event' budget in 2013 and in 2017 it already covers 77% of the budget.
Design. It is hard to evaluate economy of design industry, it consists of small enterprises and freelancers mainly. What is notable is again a role of grassroots, private initiatives. Key professional platform — forum of designers, or Design.kg — is led by one person, founder of the forum Alexey Lysogorov. He initiated 2 professional competitions: Design Cup and Photo Champ. They are annual online tournaments of graphic design and photography, respectively. Tournaments combine competition, education and networking and challenges designers to think out of the box and advance their skills. There is also a growing demand for fashion design and interesting networking events and shows that help designers and clients to find each other. Unfortunately, product design is least popular competency, it is not taught in universities.
Film, TV, audiovisual production. The widespread of social networks lead to the gradual merging of television, Internet, and films around the same content. As technologies advance, it became much easier and cheaper to produce a film. In 2013 – 2016 commercial production companies delivered about 40 films a year, and state company KyrgyzKino – 1-2 films. Low-budget an independent does not mean "bad quality" anymore. At least for visitors to cinema theatres. Cinemas benefit from increasing number of films and growing demand for domestic films, films in the Kyrgyz language. A number of Kyrgyz films won awards on international festivals.
Crafts. Starting from 2016, citizens of 44 countries are allowed to visit Kyrgyzstan for up to 60 days without obtaining a visa. As a result, tourism employment increased by 28.4%, and spending by foreign visitors grew 34.5% to $693 mln. For the crafts industry, it meant increased demand and fashion for a nomadic culture. Not only traditional artisans developed successful small enterprises, but the design of their products became more practical, modern and sellable. There are regular fairs and markets, some are linked to touristic and other cultural events (open-air art festivals), some – standalone (OIMO fair). Unfortunately, statistics on employment in crafts and their gross value-added are not available. There were several sectoral policies and support programmes oriented on the textile industry and crafts, led by the Ministry of Economy and supported by donors, among them: Embassy of Switzerland, USAID.
IT & software development. IT is the fastest growing sector of other creative industries. As NSC' data on the IT sector does not provide necessary details about the software development sector, we propose to rely on data from IT-Park. The Park was established in 2015 when a special law was passed as a result of large advocacy campaign by civil society and Kyrgyz Association of Software Developers. IT-park provides tax preferences for its' residents, stimulating small IT startups to work legally and transparently.
One of the most active civic organizations in IT is PF "KG Labs". During these 2 years the foundation held 4 large hackathons (software development marathons), and meetups for CEOs and experts. More than 700 people participated in their events in total. KG Labs collected a database of startup ecosystem that includes 97 companies, 88 supporting organizations (advice, marketing, etc), 51 individuals and 19 investors.
Table 1: Key figures of IT-park
| | | | |
| --- | --- | --- | --- |
| | 2015 | 2016 | 2017 |
| Turnover of IT-park residents', th. KGS | 129,879.52 | 241,450.76 | 518424,6 |
| Export, % of turnover | 70,6 % | 78 % | 72.2 % |
| No of residents | 13 | 27 | 32 |
Common problems of culture and creative industries:
The Government of Kyrgyz Republic does not have policy or programme dedicated to creative industries or creative economy, data about the sector is quite sporadic and incomplete.
Small companies often cannot afford to work legally and pay all the taxes,
Due to labour regulations and qualifications standards, it is almost impossible for state art institutions to hire professionals on a contract basis;
Social order, stimulation grants and public-private partnerships and state and municipal tenders have very complicated procedures, and only large companies can afford to participate and use such instruments.
Data used in this work, is available at: https://docs.google.com/spreadsheets/d/1V85kpUtCdSld6t_PmwtqjWInXqA0P5AEX3AVjE-sPlY/edit?usp=sharing
Source of the report is available via link: https://docs.google.com/document/d/1UELAYDbN2xrWhD8S-GPlvhK2EI5yYgn4C5ubk-RG5fw/edit?fbclid=IwAR11KqnPc_EPYiTa-64m14gwOYmQyg5mfc83YDo6W-cO1H3E2oxo3GmhYPo